DSR Project Build Page

Updated 05/15/2011
Latest status: The car isn't done! But we took it out anyway! We brought the car to Waterford Hills for her first proper racetrack test session May 1st. While we were only able to really make one session, and with serious limitations at that, we were able to both find problems to fix, and confirm that there were no major problems. We have to rework the shifter, and are now making full power - which will make the next drive a whole lot more exciting! But nothing fell off, and the car basically drove properly. So it was in fact a very successful test session.
Update 3/20/11: The new welder has arrived, and work has begun again in earnest. The rear end is completely disassembled, the engine and cell removed, and modifications are underway. The rear anti-roll-bar has been fabricated, and is waiting only for mounts to be made to install. The shoulder belt mounting point and fuel cell cover must also be changed, for improved safety, fit, and comfort. There's also a long list of small little loose ends to tie up. But with the car fully stripped-down again, the pace is picking up.
Update 3/12/11: Work on the body has been proceeding slowly over the cold months; a welder is on order, but in the meantime there's plenty of details to be filled in with carbon work. In particular, there's a fair bit of rework needed to refine the engine cover shape; it can be made a lot more efficient, aerodynamically, with some cutting and trimming. Here's some updated pics; the sidepods are mostly complete now, with only some small finishing touches remaining...
Update 11/20/10: The car was tested, mostly complete, on Sunday Nov 14th. Everything held up quite well, and there's not much that needs repairing - only mostly minor stuff. There's still lots to do to finish the car, but at least we made it this far... (pics by Sue Wakeman, Merritt Collins, and Dyushant Wadivkar)
Update 9/22/10: The body was turned out of the mold.
Update 9/20/10: Again, a long time since the last update; in this case, that's a good thing, as we've been very very busy. The top carbon fiber body is now done, and curing. Big thanks to the crew for pulling a very long day (nearly 12 hrs!) to get it done. The car also now runs, and with some further work should be ready for straight-line testing mid-week, and hitting the racetrack Friday for testing.
Here's some pics of the build-up of the mold, by request (along with some other pics build pics)...
Status 7/15/10: The car went on the ground and was rolled out to the team.
We've accomplished much; the rear end and rear suspension are mostly done. We finally got the car back on 'er own four feet a couple of weeks ago, and had to take her outside to celebrate! Big thanks again to our sponsors - 4M Industries, Munk's Motors, and Great Lakes Machining - and to our build crew - Todd Quenneville, Russ Wakeman, Bill Wise, and Chris Marsh. Next up, we get cranking on the bodywork, and start tying up a million loose ends!
Here's some pics of the process...
Status 04/22/10: Header design is complete; while it still needs finishing, the layout is set - pics below. We've also had a chance to start looking at the rear suspension setup a little more completely. Now we focus on finishing out the rear suspension, and can start to look at bodywork. Once we've finished off some of the minor frame welding remaining, we'll see about getting some more paint on the frame and starting to truly assemble the car.
Update 03/21/10: The engine and remaining rear suspension mounts are finally tacked in place!! Major step forward here... have to rework some parts of the upper engine mounts, due to some CAD model inaccuracies, but the rework is fairly modest and we should be able to have it sorted out early this week. We also now have the spiffy aluminum rear crossmember fabricated (thanks Todd!) and in place, though its mounts also still need to be welded on. The Quaife differential is also now locked in place.
We also got a chance earlier this month to test-fit some of our aero bits, along with the front suspension and radiator...
Update 1/03/10: Header build is underway, and most of the rear suspension points are in place. After a false start, we got an excellent, very complete header kit in stainless from Mark's Performance in Hesperia, CA (760-948-1346) - pictured below. We've got the initial fitment of two of the primaries sorted, to the extent that we can finalize engine placement (confirming that we can in fact get it placed where we wanted). We'll now be finalizing drawings for the engine mounts, as well as fabricating the same and of course completing the build of the header. We also now are working on sorting the remaining details of the oil system install and packaging.
The car came home in November. Here's some detailed pics of the results of the Formula Ford -> DSR conversion.
We did a preliminary test-fit on the engine, with very satisfactory results; the engine can now drop right in from the top, without even removing the subframe! This is even better than hoped, since that will mean no need to disturb the rear suspension if an engine swap or service is needed - just pop the bodywork off, and remove the engine!
Here's some more in-progress pics from earlier...
Update 09/07/09: The frame has been cleaned, blasted free of all paint, and the old engine bay forcibly removed with a sawzall! It is now tied down to the welding table and ready for construction of the new engine bay and tail section. Added complication, we have found a major crack in a critical frame component; the front main roll hoop was significantly cracked due to crash damage and apparent embrittlement, possibly from some rough damage repair. So in addition to building the new rear section, we also have had to remove this frame component and will be grafting in a replacement new section. We will also find it necessary to go back over some of the prior repair to clean things up and make sure there isn't any more damage lurking underneath. Fortunately, as the car is tied down to the welding table, this shouldn't hold up the construction of the rear section; we should be able to proceed independently. Pics now here as promised!
Fitment of the 2008 GSXR 1000 engine in the frame was evaluated 6/20... we've confirmed that it'll be better to widen the rear of the frame. We have begun the re-work. Meantime, here's some pics of the fitment tests, dinner for the design crew, and resultant revision of the frame design...
Update 5/24/09 - One of the biggest obstacles to starting the modifications of the frame to DSR spec is finally out of the way; we've sourced an almost-new 2008 GSXR 1000 motor and trans. We'll be taking some final measurements on it to determine fitment in the frame and alignment for the chain drive, then finalizing those designs in CAD. Once those are set, and the frame is cleaned off, we'll be ready to start modifications.
The Euroswift donor car is fully disassembled; once time permits, the bare frame will be taken for media blasting to remove all paint etc. Then it can be thoroughly inspected for any necessary repairs for cracks, etc. Then it'll be spraypainted to protect, while we source an engine, trans, and diff, at which point we can begin with the modifications.
Meanwhile, we've been working diligently on design of the body and the mods necessary to fit the new drivetrain into the existing frame. But everyone's been dying for an update, so here's a quick look at what we have in mind for a body (rough outline, keep in mind):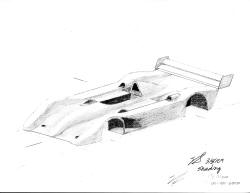 We've managed to pick a good deal on a barely-used Quaife differential with mountings, which will save us some good time in design and fabrication. Design work is still underway to migrate from the original Euroswift rear suspension to the new chain-drive setup, but here's some in-progress CAD drawings of the rear suspension and drivetrain layout study (courtesy of Russ Wakeman):
Once the upper control arms and shock placement are finalized, we can finalize new suspension pickup points and start to lay out a rear subframe to support the rear suspension and diff (not to mention wing and bodywork!).

Bare frame:
Here is the car in the garage, ready for disassembly...
Trying on the new toy...

This is the '90 Euroswift roller that will form the basis for our new D Sports Racer car...
Engine bay details
Cockpit layout with AIM dash/data system
Front suspension details
Front Euroswift bodywork
Rear Euroswift bodywork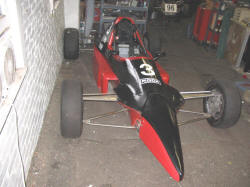 Once we take some measurements of the car as-is, we'll be fully disassembling for a thorough inspection of the frame. Then we'll be procuring and fitting in the engine, trans, and differential. After that, we'll be ready to deal with creating new DSR bodywork and packaging all the remaining bits (plumbing, wiring, etc). If all goes well, we might be able to get the car out on track with the new powertrain before the end of the 2009 season.